PREMIERE
Video "Human Furniture - Bootlicker as foostool"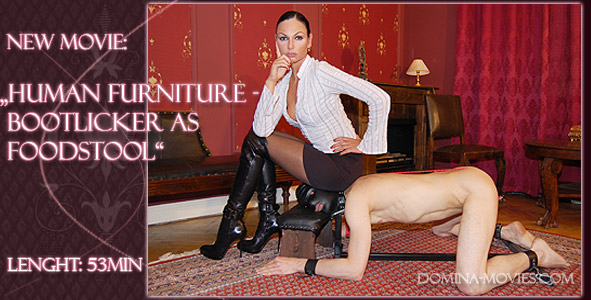 Story: A new job for Bootlicker: Madame Catarina's human furniture!
Suffering under her butt, used as chaise long, foodrest or pillow...
Keywords: Full weight face sitting, boots, boot licking, leather, humiliation,
boot job, cock squeezing,
Lenght: 53 min
"Forced Under Heels"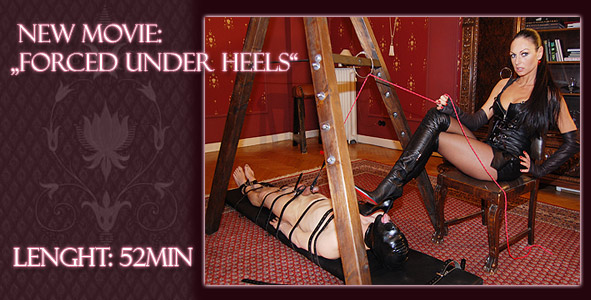 Story: A new crazy story with Bootlicker, heavy forced from Madame Catarina under her high heels. Ropes, collars, leather belts, clamps and cbt - all mixed - a must have for every lover of heavy boot licking.Bootlickers cock is fixed, the hands at the back and around his neck a prickly dog collar. All robes ending in Madame's hand to force him like a marionette...

Keywords: boots, high heels, trampling, Bootlicker, Madame Catarina, cbt, boot job, boot licking, nipple clamps, nipple torture, gloves, leather, humiliation, captivation, torture, cock clamps,

Length: 52:00 min
New Movie "Slave Torture"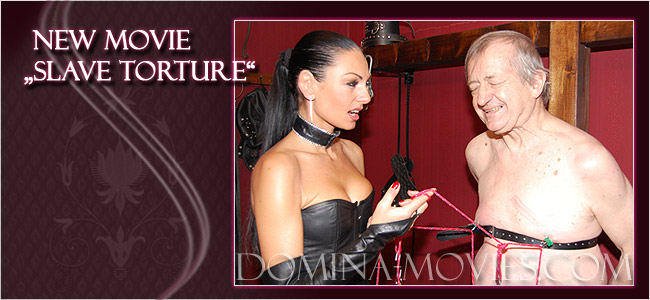 Story: There is no story because the maso slaves has to comes over just to entertain Madame
with his suffering.
Keywords: full body whipping: riding crop, rubber covered cane, dog whip, floggers, Bastinado,
cbt: nipple lamps, cock clamps, spike role, weights,
spiky chair, humiliation, captivation,
Lenght: 33:00 min
"Suffering for Madames's Heels"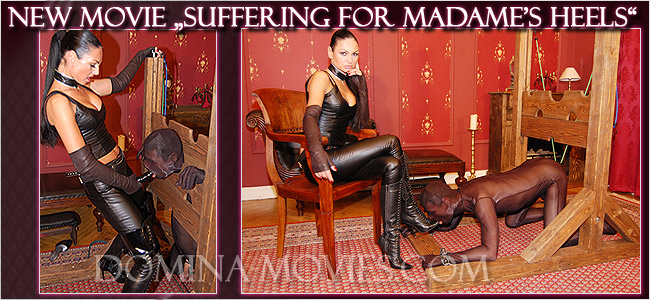 Story:In this movie Bootlicker has to handle a hard training. Madame Catarina has a lot of hard tests prepared for Bootlicker to let him suffering and train him to be a better boot jack.
Keywords: Trampling, boot licking, cbt, boots, gloves, leather, high heels, humiliation, captivation, mules, nylons, feet, torture, strap-on sucking, heels sucking, tongue clamp, cock clamps, living ashtray, smoking
Lenght: 1:03min

Video "Red Butt Thief"
Story: One of madame's house butler returns from the supermarket. Madame knows he is a pickpocket and controls his jacket. Of course she find something. But the thief is denies. Best answer: strong OTK for establishment of the truth and then hard caning for the punishment!

Keywords of the movie:
- OTK - spanking-
- caning - humiliation
- red butt - interrogation
- leather, gloves
- high heels, boots
Lenght: 40min
No member ship, just buy this movie? Click here
Video "MCircus de bizarre"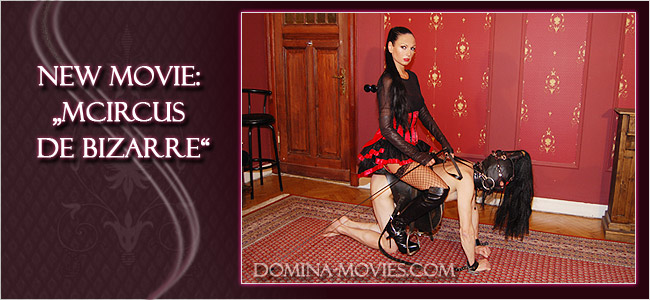 Welcome in the manege of "MCircus du bizarre", where horses get trained,
clowns humiliated, dogs make tricks. Madame Catarina as the director is entertaining you
in a awesome outfit and expansive designer boots. The main attractions of the show is a trampling
number with a new toy, made by Bootlicker themselves. A wooden board, wholes for cock and balls inside
and a lot of elastic bands are fixing the cock in the right position for Madame to trample, to torture and to
milk him with her boot sole.
Keywords of the movie:
- riding
- horse
- dog training
- cbt
- boots 'n heels
- boot job
- trampling
- smoking/living ashtray
Lenght: 50min
New Movie: "Dr. Psycho and the exhibitionist"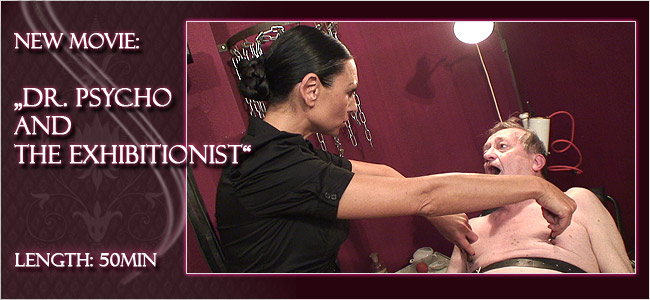 Dr. Psycho allways interested to torture men, find today a special victim. An old horny gay who be laid in exhibitionism.
With the following extreme hard therapies Dr. Psycho tries to cure the man:
- extreme accupuncture at cock and balls
- cbt and nipple torture with iron claws, needles, electricity
- urethra extension by delators
- masturbation by a vibrator
New Movie "Bootlicker at the desk"